Project types
Broadband Access
TELESUN can provide a complete portfolio of broadband access solutions for markets in MENA region. Our flexible solutions ensure the availability of services at very competitive prices. With no hidden costs, equipment, space segment and customer support are all included in our turn-key solutions. Our Broadband Access solution provides bandwidth for IP connectivity to Internet backbone for any companies and organization, regardless of their locations, anytime, anywhere. Cost-effective and reliable two-way satellite services, delivering broadband Internet access to businesses and administrations throughout MENA region. The service can be rolled out quickly thanks to TELESUN partners and satellite broadband service providers, who offer the highest levels of quality and reliability in their network services.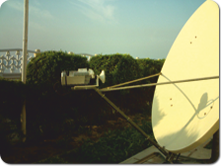 Point to Point
For wide geographically separated offices, factories and branches or for international data connectivity, point to point solution is your topnotch answer. One of best technologies for point to point connection is SCPC. SCPC is perfect satellite solution for government, military and corporate organizations demanding secure and fully dedicated network connectivity with multi-regional coverage that provides access to hard to reach locations.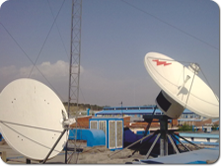 Point to Multipoint
For wide geographically separated offices, factories and branches that need to connect to head quarter or central site, our point to multipoint solution is your topnotch answer. We can provide it by MCPC/SCPC hub-based technology with variety range of uplink and downlink data rates. Using state of the art communication and networking equipment you are assured that your business will be up and ran at the soonest possible time.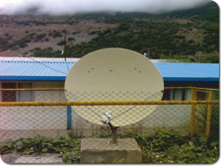 Mesh Applications
When several VSAT stations in the same network want to communicate with each others via a single relay link through the satellite, mesh network is our recommended solution. The single-hop nature of this network design leads to a minimal time delay between signal transmission and reception. Mesh technology is best choice for a group of VSATs that need to have a real time applications among sites without the latency created by a double satellite hop with communications going through a teleport.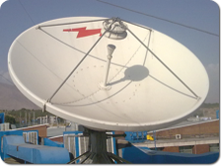 Earth Stations
TELESUN has experience in designing, equipment procurement, installation, operation of many earth stations around Middle East owned and operated by our customers, and these earth stations include antennas, amplifiers, receivers, modems and test equipment. We are able and have experience in installation of earth station antennas in both C and Ku-band from 3.7M up to 7.6M tracking and non-tracking antenna.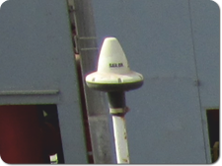 Mobile & Portable
TELESUN has experience in equipment procurement, installation and operation of mobile and portable stations with different technologies by using best services from large mobile satellite provider and using best equipment from top manufacturers. Some of our mobile projects implemented based on Inmarsat BGAN equipment, Inmarsat Fleet Broadband, Inmarsat C and mini C that use for broadband access and SCADA applications. Furthermore, we have experience in portable stations by using flyaway and fast deploy antennas with different technologies for governmental and military applications.