Solutions :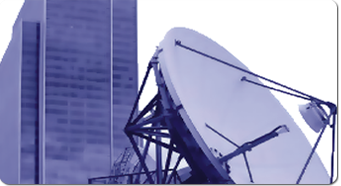 Corporate Networking
Large companies such as banks can increase their presence in previously out-of-reach locations, giving them access to new customers, and can enhance the range and quality of their services to clients, resulting in increased loyalty. Automatic Teller Machines (ATMs) and Point of Sale (PoS) networks give banks the opportunity to take advantage of bank card transaction growth by acquiring new customers and 3rd party transactions. All of this helps drive revenues and strengthens a competitive advantage.
Inmarsat's Broadband Global Area Network service - BGAN - offers the retail banking industry a compelling combination: reliable, secure, voice and high-speed data connectivity - independent of local terrestrial networks - using compact, mobile satellite terminals that are quick to set up and easy to use.
Key Applications
* Credit check and data validation prior to transactions
* Debiting and crediting client accounts
* Credit and balance enquiries
* Database synchronization with central bank to keep client and account information up to date
* Standard office applications: telephony, email, intranet, VPN, internet and fax
* Remote video surveillance for branches and ATM security
Key Advantages
* Simultaneous voice and broadband data
* Cost-effective
* Easy to use
* Secure/Reliable/Flexible
* Highly compact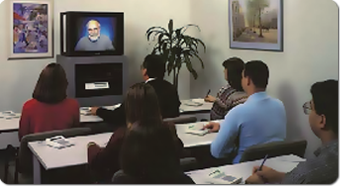 Distance Learning
Indeed, through the power of satellite broadband technology, we are able to provide the same level of training and education to urban and rural areas. That's the beauty of distance learning via satellite broadband.
Many schools joint to their country national programs training center's for distance learning, which delivers interactive distance learning by using a common satellite carrier for an interoperable network that shares satellite services, facilities, and programs for distance learning.
Through interactive video distance learning system, teachers and staff members can participate in training programs and workshops that feature live feeds as well as pre-recorded content. In addition to academic training and professional development. Using interactive push-to-talk system, students can ask questions and interact directly with the speakers.
Serving as system integrator TELESUN can provide one-way television (ITV) and two-way audio communications network for interactive training.
Technology
Our network consists of a HUB station, which are a satellite earth station and a studio for video broadcasting of the lectures and many remote classrooms. The HUB will interconnect the VSATs at various geographical locations establish the communication link in C or in Ku-bands. The Studio room consists of control and video streaming server, live voice room server.
The control server is at the heart of the E-learning through our VSAT solution, and it acts as a gateway to all remote classrooms. The remote virtual classroom is a receiving agent and must have registered students with computer systems and can connect over VSAT solution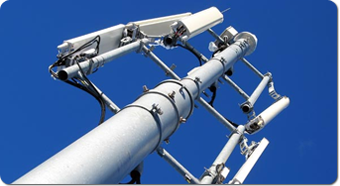 GSM Backhaul
As communications needs extend to ever remoter areas, the terrestrial infrastructure required to interconnect GSM networks does not always suffice. The limited infrastructure, however, remains a challenge to future growth.
TELESUN GSM backhaul solutions via satellite enable you to bypass the terrestrial infrastructure and reach the most remote areas, to extend cellular coverage, create a network backbone or a back-up solution for a terrestrial network.
Satellites are at the heart of such networks, enabling connectivity between remote base transceiver stations and base station controllers, or between controllers and mobile switching centers. Compression technologies optimize the use of satellite bandwidth and reduce transport costs across the GSM network.
Key Advantages
Providing the ability to reach millions of people in dispersed locations that have limited or nor access to cellular networks
Satellite technology is the obvious choice for remote cellular systems that also overcomes cost issues. These are considerably reduced according to the bandwidth allocation between peak calling times and non-peak times where the bandwidth may be reutilize to other sites
With an IP based solution carriers can reduce bandwidth and other operating costs by sharing the network capacity throughout multiple locations and simultaneously expanding their coverage and acquire millions of new customers
The quality-of-service (QoS) mechanisms also provide reliable end-to-end delivery of all traffic and protection against over subscription of GSM channels
Applications
Remote/Rural Areas. To service remote areas, it is often economically unfeasible to provide backhaul facilities via terrestrial lines.
Time to deploy. Terrestrial build-outs can take years to plan and implement.
Areas of isolated centers. These can include small isolated centers such as tourist resorts, islands, mines, oil exploration sites, hydro-electric facilities, etc.
Temporary coverage. Special events, even in urban areas, can overload the existing infrastructure.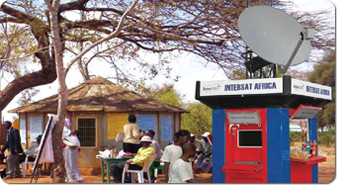 Rural Telephony
Many parts of the world lack telephone access. We have two solutions for rural telephony as below:
VSAT- Rural Telephony
Government agencies have established the objective of providing basic telephony services throughout their countries and turned to VSAT networks for a low-cost, reliable public telephony solution. VSAT networks represent the most cost-effective solution for communities in areas where public switched telephone network (PSTN) services are unavailable, overloaded or too expensive. Quick to install and easy to manage, VSAT networks are ideal for Public Call Offices and pay phones can be established in any location. VSAT public telephone networks have been deployed worldwide by telecommunications carriers for ten thousands of sites.
Mobile satellite Rural Telephony
There is global solution for the Rural Telephony providers by mobile satellite providers like Inmarsat (IsatPhone Link) provides essential voice connectivity for those working or living in rural or areas outside of cellular coverage. Inmarsat IsatPhone Link comes with a range of data capabilitie, including SMS, short message emailing and GPS look-up-and-send, as well as supporting a data service of up to 20Kbps.
SPARC Solar Powered Advanced Rural Communication
The Rural Internet Kiosk (RIK) is an independent self contained 100% solar powered kiosk featuring three industrial design computer terminals, a manned administrator terminal, and broadband wireless Internet connectivity. RIK has been designed to help bridge the digital divide in Africa and concentrates on connecting individuals in rural areas where a large percentage of the population has no access to existing ICT infrastructure. It is a Solar Powered Advance Rural Communication tool. The Rural Internet Kiosks -SPARC-provide the following development solutions: E-agriculture, Ecommerce;E-health, E-government, E-banking, E-learning, Relief services, Local content creation, Skills training, Employment opportunities, Independent local media, and Knowledge diffusion from the North to the South and from the South to the North.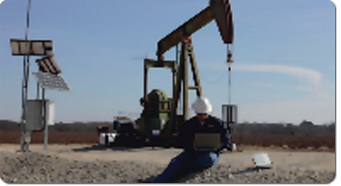 SCADA
The Supervisory Control and Data Acquisition (SCADA) marketplace represents a fast growth industry and TELESUN product and services enables our customers to save time and money while increasing security. For more than 10 years, with more than 150 SCADA sites, TELESUN has successfully serviced the narrow-bandwidth SCADA application requirement of customers in Middle East.
Inmarsat offers a comprehensive, secure satellite solution for SCAD applications in the Oil & gas , Energy and utilities sector from a few bps through to mobile broadband data at up to 492Kbps
Higher efficiency, satellite-based systems are essential to the successful deployment of SCADA applications. With more reach than ever, combined with available enhanced services such as high bandwidth, voice, and video, SCADA portfolio provides more services to more areas.
Base on customer requirement, we can provide SCADA solution by Inmarsat -C, min-C and BGAN equipment.
Applications
Pipeline monitoring and control
Oil Well diagnostics
Water well, Distribution and treatment
Waste Water Treatment
Pump Stations monitoring and control
Elevated Storage Tank automation
Alarm monitoring
Smart grids
Tele Medicine
With the advent of Communication Technology, especially the Satellite Communications combined with Information Technology; we have meant to extend the benefits from the advanced medical sciences even to the remote and inaccessible areas.
Through TELESUN Telemedicine solutions, satellite link hospitals and healthcare centers in remote rural areas with specialty hospitals in cities using VSAT solution.
Technology
Our Telemedicine system consists of hardware and software at both the patient and specialist doctor ends with some of the diagnostic equipment like ECG, X-ray and pathology microscope/camera provided at the patient end. They are connected through a VSAT solution over satellite and controlled by the network hub station. Through a Telemedicine system consisting of simple computer with communication systems, the medical images and other information pertaining to the patients can be sent to the specialist doctors using video conferencing solutions and VSAT solutions over satellite.
Major Areas
Tele-consultation, Tele-diagnosis and Tele-treatment that patient over our telemedicine solution (VSAT and Video Conference) consults the specialist obtains the line of treatment Tele-monitoring that consists of regular monitoring for intensive care & emergency care Tele-support that include support during disaster management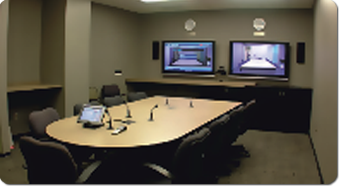 Video Conference
For meetings involving a larger group, or for those taking place in venues with little or no connectivity, satellite video conferencing is the ideal solution.
Satellite video conference Scenarios
One speaker presenting to many receive sites One site presenting to multiple locations; questions coming back from the remote sites Presentations from many sites to many sites
Value added services to enhance the conference experience
Audience response system to get instant input from local and remote audiences
Power point presentations
Video inserts
Web streaming
Integration with codec video conferencing systems
High definition quality video production and broadcast
With all the various details and options available, we know that planning a satellite video conference can seem difficult. For that reason, the experts at TELESUN are committed to helping you make sense of it all. We will listen to your needs, technical and non-technical and help you make your way through the maze of decisions.
Applications
Online training seminars, Sales presentations, Product announcements, Client meetings, Interactive seminars, Telemedicine, Multimedia presentation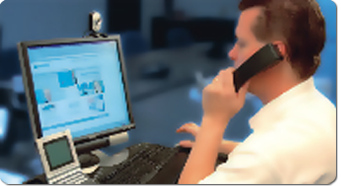 Voice over IP
VoIP service allows telecommunications carriers and Internet service providers to offer VoIP with guaranteed quality of service, at lower start-up costs than circuit-switched technology. The services are ideal for communications carriers that use VoIP to transport a portion of their traffic over international routes. It also serves the specialized needs of companies with VSAT networks that want to carry VoIP for corporate virtual private networks, wide area networks or rural telephone networks.
Key Advantages
Replace legacy telephony networks and buildupt new voice networks
Reduce international voice cost
Increase voice capacity in current markets
System Configuration
For using VoIP via satellite you need satellite connection with hardware's support Internet Protocol.
IP base satellite modem easily connected to IP phone, IP gateway or IP PBX,
which all uses the Internet Protocol to transmit calls.
TELESUN could provide all of these phone system options at a very competitive cost.